By Javid Ramazanov

One of the cruelest crimes in Georgia's history happened in mysterious circumstances
Here people live isolated life from others, they are not interested in what is happening beyond their doors.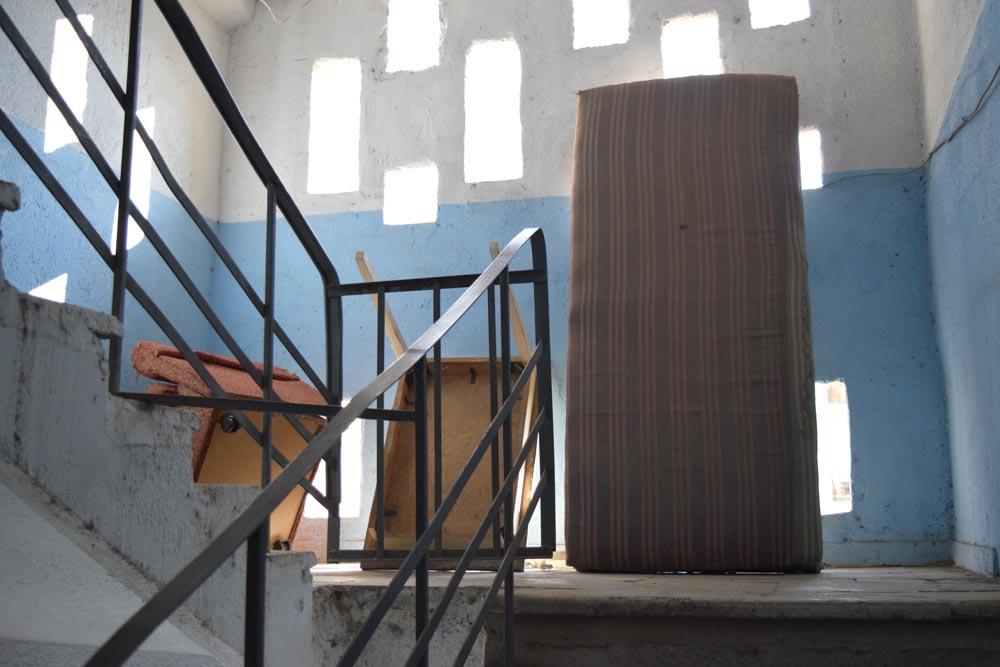 Neighbor Shalva: "I couldn't imagine that she is able to do such horrible things"
Neighbor Tamaz: "I heard absolutely nothing when crime happened. I got informed about the case when police and other officials came here"
On October 19, 2016, a group of youngsters committed ritual murder in Tbilisi on 76-year-old Luba Kochiashvili. One of the detainees is the victim's 18-year-old adopted daughter. The others are her boyfriend and three other friends. All were detained in November, 2016. During the investigation, the boyfriend said he ate some of the woman's internal organs. This ritual murder and cannibalistic act was one of the most scandalous criminal cases in Georgia in recent years.
The area around Tbilisi's Samgori metro station is not attractive. An open agricultural market operates here; lots of people are selling and buying foods. At first sight you become suspicious about the hygiene and tidiness. But this is the normal way of life for people.
From Samgori metro station to the place where a horrible crime happened is just a few kilometers.
You can go there by walking or by taxi. Before getting in a taxi, I asked driver if he knows the address 5 Bogdan Khmelnitsky? He said: "Yes, of course, I know."
But after 20 minutes of traveling, I found out that driver doesn't know the address. He was calling some people, but they also didn't know. Finally he stopped the taxi in front of 5 Monk Gabriel Salosi Street and said that this is the address, which I want. He was lying.
I explained him where I wanted to go. I told him about the ritual murder and cannibalistic act which happened in this district. I assumed that everybody in Georgia knew about it, but surprisingly, the taxi driver didn't know. In the end, he suddenly stopped in front of one building and said that he could not help me anymore; I should get out and find the address by myself. I began walking and 30 minutes later I found the place.
This district was built in the Soviet era. Here you can see lots of similar buildings. Even streets, side streets and dead ends look similar. Suddenly I understood that I was in a labyrinth…
Fortunately, there were people in this strange place. I was asking them about the address where the crime happened. One youngster named Shalva who agreed to help me knew the girl who killed her adopted mother. He began to talk about her:
"I live in this neighborhood. So sometimes I saw her, especially in evenings. She was always silent; I never heard her voice. It seemed that she is a very introverted person; there was something strange about her.
"I always saw her with headphones on her ears and books in her hands. I don't know which kind of books they were. People now say that she was the member of a Satanist(Should this word be capitalized?) sect, and that is why she killed her mother in that way. I don't know if they were Satanic books or not. I didn't see books titles… But to be honest, she seemed me very harmless, weak and timid. I couldn't imagine that she is able to do such horrible things…"
Eventually, I'm in front of the building where the ritual murder happened. Shalva left, saying he was in a hurry. I asked questions to a group of people living in oter buildings about the girl and the murder. But they didn't have much to say. They repeated what Shalva said: that the girl was introverted, that they never saw her with another person, that she always was listening to music, that she seemed fragile and harmless, that they were shocked when they heard about ritual murder and cannibalism. They told me exact flat number where the girl lived with her mother, but added that the flat is sold now, and nobody is living there. I entered the building.
There are thousands of such Soviet-style buildings around the country. I met two neighbors, who live next door to where the crime happened. One of them repeated what the others said. The other, Tamaz, gave me more information:
"I've been living here since 2011 with my wife. I cannot say much about the girl and her family. It might not sound normal, but I saw the girl just a few times. My wife and I are busy people; every morning we are going to work and arriving from work late. You know, every family in this building lives isolated from others. When you see them you say just "hello" and that is all your contact with neighbors.
"My contact with that girl was the same. I saw her several times. Once we met in the elevator. I didn't even look at her attentively. I heard absolutely nothing when the crime happened. I learned about it when police and other officials came here…"
Now I'm in front of the door where the crime happened. There is something unusual here that is hard to explain. Silent district, silent building, silent door… and yet just recently a group of young people tortured, stabbed, and killed a helpless old woman behind this door. Indeed, it is scary…
According to authorities, the criminals were filming the murder on a mobile phone camera. The adopted daughter once confessed that she was part of a sect, and that she constantly had conflicts with her adopted mother.
Georgia's Ministry of Internal Affairs declared that three of the youth, whose ages range from 17 to 23, are suspected of direct involvement in a ritual murder.
"The three detainees knocked the elderly woman unconscious with an electric shock device and afterward stabbed her with a knife. The detainees placed Luba Kochiashvili's body in a large bag and transported it to a rented apartment, temporarily owned by Beka Shebgelia (one of the alleged perpetrators), where they disintegrated the corpse," the statement reads.
"The same evening, the detainees took the dismembered body to a closed landfill located in Gldani, near penitentiary facility number 8, poured previously purchased gasoline over it and set it on fire. The offenders threw the body remains in a ditch to conceal the traces of the crime."
Ritual murder has deep roots going back to the act of human sacrifice. According to historians, human sacrifices first became widespread during the Iron Age. However, as civilization and culture began to evolve, human beings stopped doing human sacrifices. Modern societies began to consider it as a barbaric and prehistoric act.
In the modern world even the practice of animal sacrifice is disappearing from all major religions. According to a much-read BBC article "Boys used for human sacrifice", human sacrifice has become extremely rare: "Most religions condemn the practice, and modern secular laws treat it as murder. In a society which condemns human sacrifice, the term ritual murder is used."
Satanic Ritual Abuse (SRA) is the suspected in this case because the daughter of the victim once confessed that she was part of a sect. SRA was first identified in the 1980s in the US. Then it spread around the world. Reports show that people commit physical and sexual abuse in the context of occult or satanic rituals. As in this case, they were torturing their victims, stabbing, dismembering and burning their victims' body.
SRA cases were so rare that many researchers didn't believe it existed. But a very similar event to SRA happened in this case.
During the investigation, the Tbilisi Police Department declared that one of the suspects confessed to cannibalism.
For modern societies cannibalism is also unacceptable, and also very rare in today's world. Interestingly, eating human flesh is not listed as a mental disorder in the US-based Diagnostic and Statistical Manual of Mental Disorders.
All these facts, events and interviews resemble a mystical murder story. A silent and harmless girl one day commits the most cruel and horrible criminal case with her friends. The question is why? Was it revenge? Or madness? Is she just a mentally ill person? And her friends as well? Is their sect related to SRA?
For now it is hard to answer these questions. Because the trial still continuing…
When I left the building, I decided to spend some time around the neighborhood. Again. This is a densely populated area, but I observed there are not strong connections among the people. Here people live their lives isolated from others. Everybody has their own door and they are not interested in what is happening outside their doors.
I saw lots of buildings and similar streets again. They are like a spider's web. I was not mistaken in my first impression: this place looks like a labyrinth indeed. Maybe most people who are living here know this labyrinth very well. But there is also the possibility that one of its inhabitants couldn't found her way.