by Rahim Tariverdiyev
On October 24, 2013, Tehrana Mamiyeva, 33, and her mother Adila Mamiyeva 59, were killed by her ex-husband, 34-year-old Zohrab Huseynov.
The murders took place in the Mamiyeva home at House 42, Tagiyev settlement in Sumgait, 40 kilometers north of the Azerbaijan capital of Baku.
Huseynov went to the police and voluntarily surrendered. Investigators found the bodies of both women in the apartment.
According to a court statement, Huseynov had already served five years in prison after a 2006 car crash and 20 months ending in 2013 for theft and drug use.
While in prison, Huseynov found out that his ex-wife was living in an unofficial marriage with Anar Ismayilov. On October 24, 2013, five days after leaving the detention centre, Huseynov armed himself with a knife and at about 2 pm went to the Mamiyeva home and killed his ex-wife. Adila Mamieva starts screaming, and Huseynov killed her.
Tehrana Amiyeva and Huseynov met as neighbors in Tagiyev. Huseynov lived with his brother and his mother at 7 Khatai Street.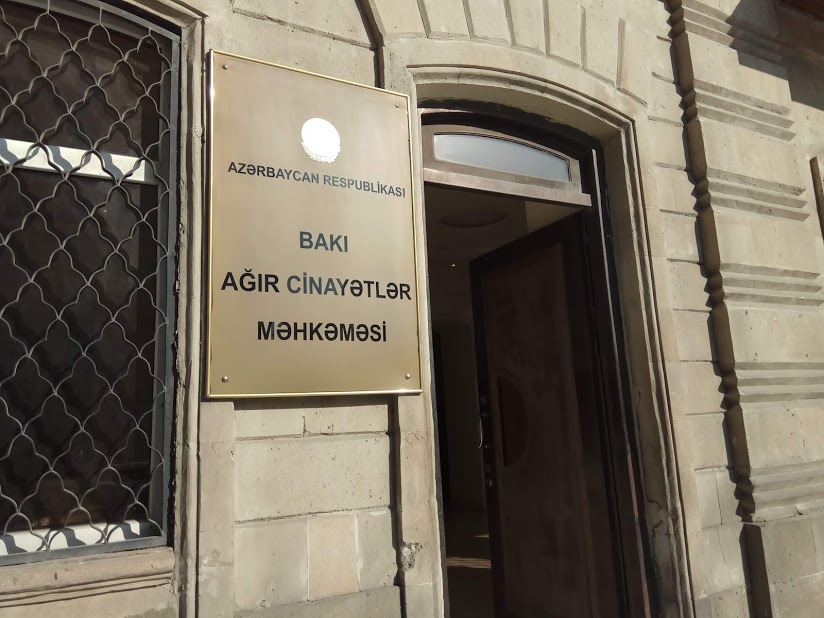 Huseynov testified at the Baku Court on Grave Crimes that he married Tehrana in 2002 and they had two children.
"The first time I went to prison was because of a car accident in 2006. I was sentenced to five years," he testified. "My early relationship with Tehrana was normal. Since 2009, I have used narcotics, and our relationship started to deteriorate. Although I was treated for drug addiction, I started injecting drugs again.
"So Tehrana returned to her father's home with the children. But I hoped that if I could get off drugs, my wife would agree to live with me again."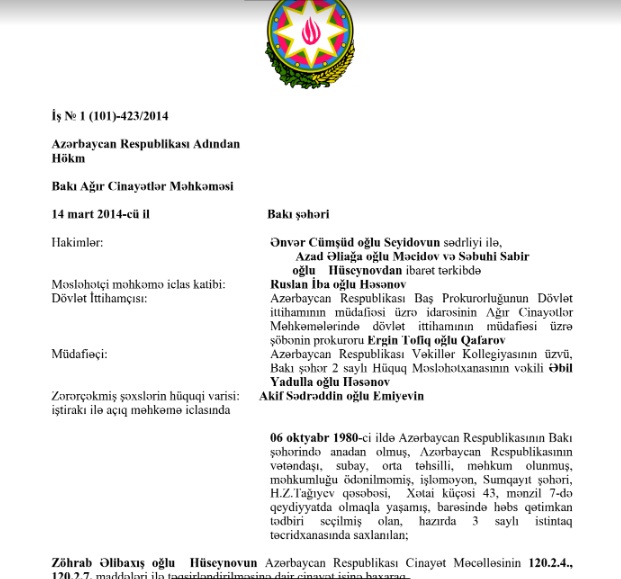 Huseynov went to prison again in 2012, and his family lost confidence to him." I called Tehrana several times from prison, and wanted to talk to my children. No matter how much I insisted, she did not allow it," he said. Their son was 10 and daughter was six when the murders occurred.
In December 2012, he called Tehrana from prison and learned that she was already married. "She said to me: "I have married; do not bother me any more."
On the phone, I said: "I will behead you when I am released."
Tehrana's father Akif filed a complaint on the threatening phone call at Sumgayit City Police Station No. 2. But on October 19, 2013, Huseynov came to meet his children and to determine with whom his ex-wife was getting married.
"I called Tehran's father, Akif, and said I wanted to see my children," Huseynov testified. "Akif advised me to come with the police.
"Knowing that Tehrana was listening to my conversation with her father, I said: 'People are laughing at you. You are shaming the name of your children living with a married man.' She answered me: 'Though we have a religious marriage, I have married another. That is why people are laughing at you,' "
In his statement to the court, Huseynov said he came to Akif's house to see his children, but they were cold to him. "My son said: 'you are not our father, we have a father.' This kind of talk by a child was very hard on me. It was very difficult for me that Tehrana was living with someone else. I decided to kill her."
He began following her. She took the children to school and returned home. When she entered the house, he approached and argued with her. He said he would kill her because she had ruined his honor. She told him he did not have the courage to do it. He stabbed her in the throat and back, When her mother screamed, he killed her.

According to Akif Emiyev, he always helped his daughter's family financially. He found a job for Huseynov and even bought a car for him. Huseynov later found a new job at a shoe shop and earned good money.
Then he started doing drugs with bad people around him. When he ran out of money, he started selling possessions and even stealing from his home.
"There were frequent disputes between my daughter and her husband," her father said. "For awhile, she tried to get him into therapy. But it didn't work. He continued to use drugs. That is why my daughter decided to officially divorce him.
"When he was released, he came and met with his children. Then he asked me who Tehrana had married. I said you were no longer married. You cannot interfere with Tehrana's private life. He agreed with what I said".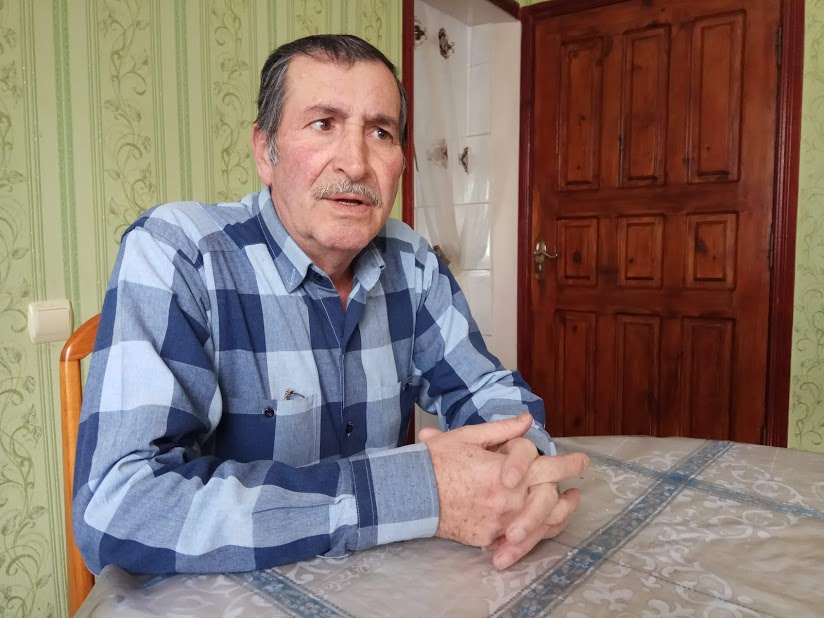 Her father said he got no response to several phone calls on the day of the murders. "My son and I were at work," he said. "I called my wife's mobile phone because they did not answer the phone at home. I sent my son Tehran, and he called and said there were many police officers around our house. I immediately went home and learned that my daughter and my wife had been killed."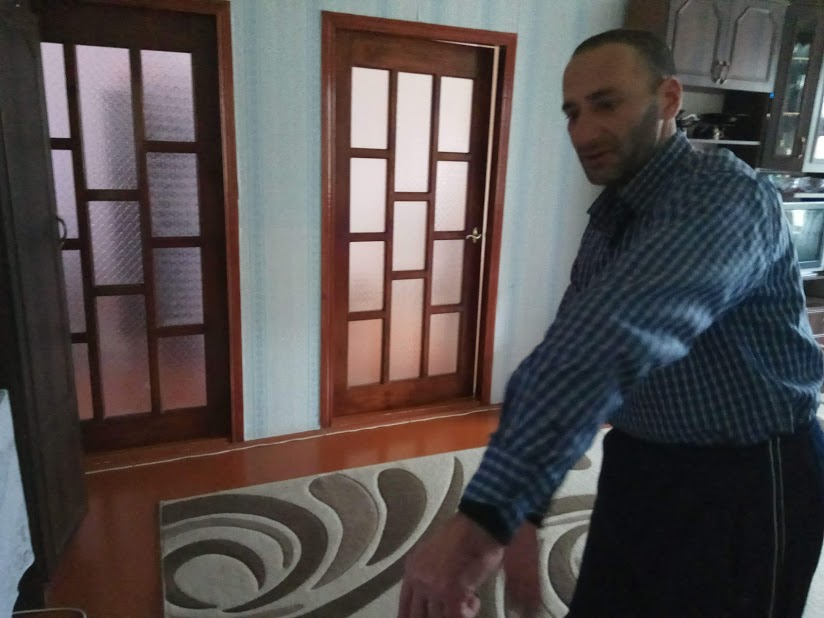 According to Tehran Mamiyev, 43, he was a policeman at the time. He said his father called and said his mother and sister weren't answering the phone. So I went home to find out what was going on."
He saw other police officers at the house and told his father. "I entered the home and found my mother and sister dead."
He said his mother was praying when Huseynov entered the home. "He first killed my sister. My mother heard the noise and started shouting. So he killed my mother."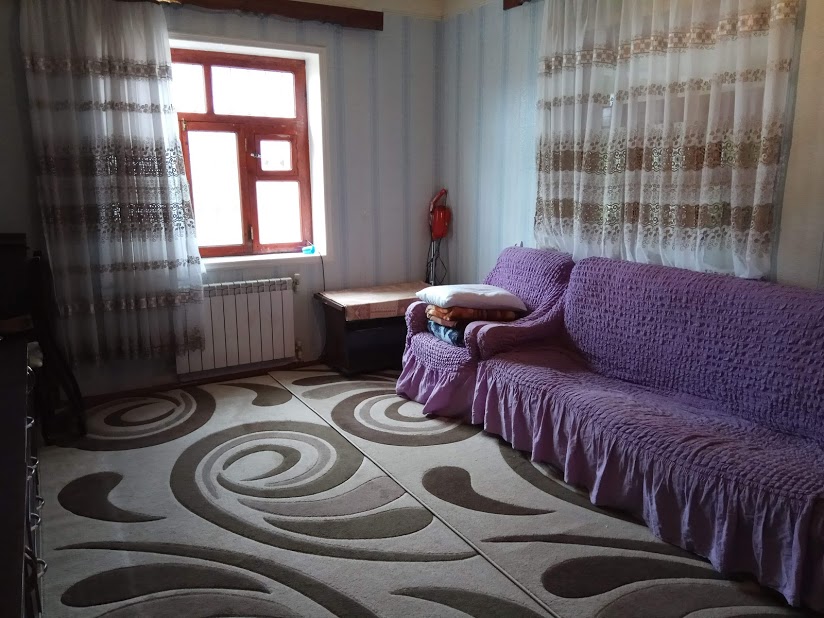 According to Vagif Kazimov, a former cleric in the Guba and Hajigabul regions for 15 years, it is forbidden for a woman to marry another man without a divorce from her religious marriage. However, Islam does not permit a husband's wife to be killed over this issue.
"In this case, the person has two choices." he said. "He can divorce his wife, or he can forgive her."
According to th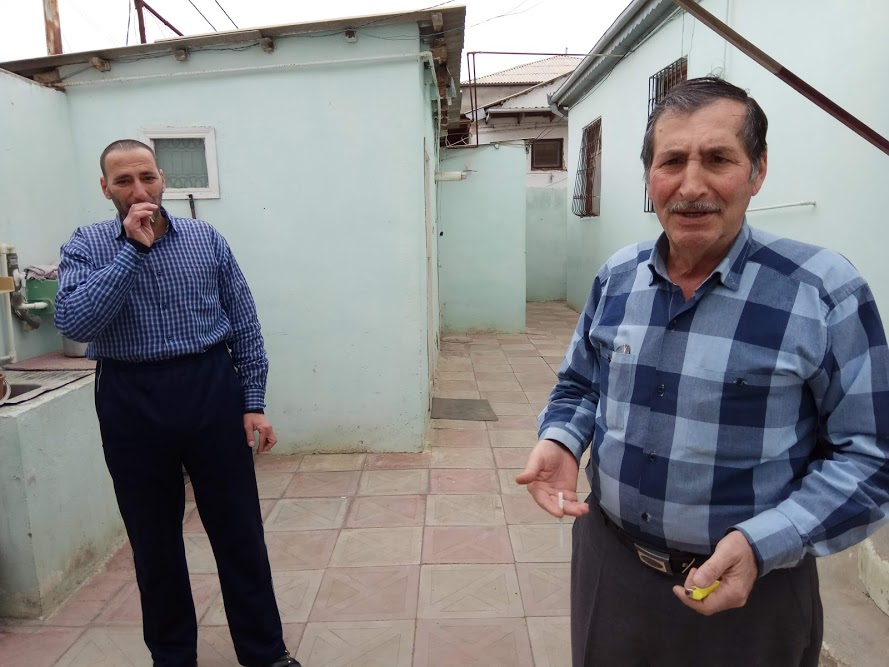 e State Statistics Committee, 765 women were killed between 2010-2016. The main reason for these murders is jealousy and domestic violence.
Civil society activist Nisa Hajiyeva said the real causes are unknown because the murders of many women are poorly investigated.
"Men use the 'honor' excuse to justify their actions," Hajiyeva said. "Men who commit crimes of honor are welcomed as heroes among prisoners."
But Huseynov told the court he regretted the crime he committed. "Both Tehrana and my life have been destroyed," he said.
His regret did not work. Judge Anvar Seyidov sentenced him to life imprisonment on March 14, 2014, under case No. 1 (101) -423/2014.