By Suliddin Baghirov
"I told her several times, but she never listened to me," says Halima, the mother of Gunay Isayeva, 20, who was killed by her husband in July 2016 in Ponichala settlement in Tbilisi.
For her, the tragic ending for her beloved child could have been predicted on the day she became the wife of Novruz Novrasov.
Novruz cut his wife's throat while she was sleeping in her father`s house. He sneaked into her room on the afternoon of July 13 and easily committed the crime. The victim`s brother was sleeping in the next room and her grandmother was watching TV. According to her brother, she went outside holding the wounded throat which caused her death several minutes later.

After the crime, Novrasov went to the local police office and confessed. Later he was sentenced to 11 years of imprisonment. The victim's mother says that throughout their marriage her daughter was beaten up many times, and there were times when her husband sent her back to her father's house late at night. Despite the fact that violence occurred many times, she always refused to contact the police.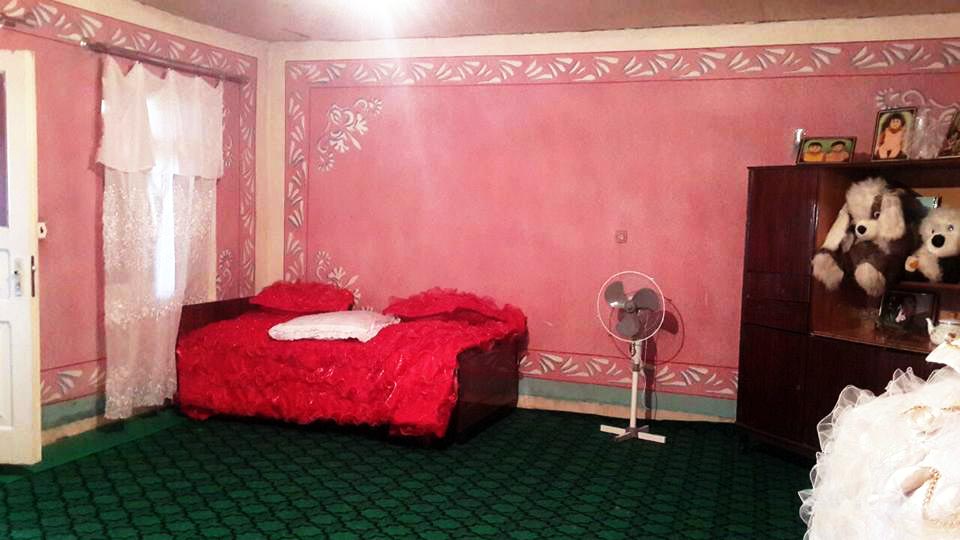 "Her love darkened her eyes to the brutality of her husband," continues her mother, adding that Gunay and Novruz were not married legally, due to the reason that she ran away with him at the age of 13. She gave birth at age 14 and again at age 19. The two children, now ages 5 and 3, stay with their father's parents and attend kindergarten.

The victim's mother states that she has no connections with the husband's family, and therefore she is unaware of the current situation of the kids. She says that she does not want to take care of the kids now, but adds that having them back in a couple of years will be more convenient.
Novrasov's father Vasif says Gunay`s actions caused his son to commit this crime. He says the couple always was fighting and that Isayeva was very aggressive towards everybody. He says he told his son to divorce her, but he never agreed to do so.

He says that in the court his son openly declared that his wife had an affair with a Turkish man who has been trading in Georgia for years: "Novruz told the judge that he found that Turk`s message to Gunay and also saw his photos on the screen of her phone." The father also says there was gossiping in the village about her affair with the stranger, and that was one of the reasons why her father was not interested in the court process.

The father does admit that his son is also a person with complicated behavior. Novruz was diagnosed with epilepsy when he was 5, and later he started to behave in an aggressive way.

"Once he jumped from the bridge into the Kura River," his father says. "He was rescued and later his mother took him to Turkey for medical treatment."

The father also thinks that maybe Novruz's arrest is good for himself and the family. "Because now we know that he will take his medications regularly. He is young, and there is a whole life for him after the imprisonment," he says while looking at a sleeping granddaughter. Diana. Now, Vasif Novrasov lives with his elder son's family. Most of the time he takes care of his son's children. But, he says it will be hard for him to take care of the grandchildren for the rest of his life. Therefore, he is sure his son will get married after he gets out of prison.

Tamar Gurchiani, a capacity development manager at the "East-West Management Institute" and a lawyer experienced in human rights, says that the law in Georgia stating that marriage under 18 is an act of crime took effect January 1, 2017. But it doesn't cover marriages that took place before that date.

Gurchiani adds that if the victim had complained to the police, certain measures like a one-month restraining order could have been ordered and then prolonged if needed.

Regarding the future of the children, Gurchiani says there are two possible solutions. The first is a grandparents` decision to become guardians; the second one is social protection provided by the government.

"In Georgia, and I am sure in neighboring Azerbaijan also, families are big and usually they decide to take care of the children who lose their parents," says Gurchiani, adding that this solution usually works and the children being raised in a family environment have a more guaranteed future in terms of education and employment.

Official statistics provided by the State Prosecutor`s Office show that in 2015, out of 53 women killed, 27 were so-called "domestic killings". Eighteen women were killed by their intimate partners, while in the rest of the cases femicide was committed by other family members (such as a father-in-law killed or a brother). According to the same data, in the 27 femicide cases, the majority of victims were ethnic Georgians: one was Ukrainian, three were Azerbaijanis, one Armenian and one Russian. All the foreigners were internally displaced persons (IDPs).