By Lika Bakuradze
17 October night 2018, kvareli, village Shilda, another 24 years old woman left life, founded at home, naked and hanged.
Prosecutor's initiated of proceedings under the law of leading to suicide.
Exact condition of death is unknown. Investigation is still going on.
When Eka was found, she had some scars on her body, that cause suspicions that she was killed and her body was hanged after.
As the neighbours say, she could not kill herself, they all claim that family had lot of accidents of conflicts, beatings, calling the police.
"Few days ago we so her with wrapped hand, she said that she accidently hurt it by herself and nothing was serious, she tried to avoid this talk" - said the neighbour Ia guliashvili.
"She could not kill herself, she was not the kind of person who kills herself, she was kind and childish. She was naked, with scars who kills herself like this." - said another neighbour.
The day of Eka's funeral, her husband's, Ramini Guraspashvili's brother, had attempt to kill himself, similarly as Eka, he tried to hang himself on tree, but the neighbour found and saved him.
"I was going to Eka's funeral, I saw him on tree and saved him" - said the neighbour, Tamaz Akhalbedashvili Spending few days in psychiatric clinic, then was "sent free".
Doctors discovered no sign of mental problems, he just mentioned that he could not bare the pain of Ekas' death.
This fact became big reason for whole village, Shilda that Eka was raped and killed and her brother-in- law has some connection to that.
Accidents of beating, conflicts, calling the police was a lot in EKa's family, even once the initiation of proceedings was accomplished under family violation, but the situation was not changing.
Ekas days went as the same, with injures. Wrapped up hands and sadness.
"The family is very violating, especially mother-in-law, she spoiled her life, but definitely is difficult to say, about guilty of someone as the investigation still in process" - said, Lia Khuroshvili, the coordinator of Human Right Center's office in Gurjaani, organization which is supervising EKa's case and investigation process.
She had no profession or high education.
Eka's working days started early in the morning, 4 a.m. she worked till midday with first brigade in vineyard, which changes after 1-2 o'clock.
After that she stayed with second group and worked till 8 p.m. willing to earn some extra money, each day working with these two groups, she earned 40 laris.
Struggling the distress, working hard for living was reflected from mother-in-law's perspective completely different way.
Jealousy, was the main reason why the conflicts and misunderstandings started in family. Mother-in-law. Not satisfied with Eka's timetable and hardworking, shouted and beated her.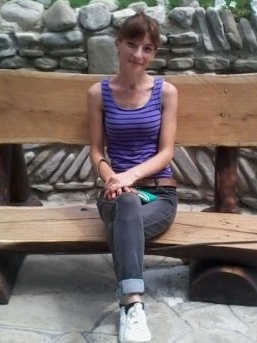 "There was cases when, her mother-in-law, rushed to her job, attacked her, drag with hair in front of all and shouted, abused her, that she was cheating her husband and whole day wasted with lovers" - said Eka Varsimashvili, a neighbour and school teacher, which is located exactly opposite the Guraspishvili's family house.
Some of the doubts also "deserved" his husband, some neighbours state that Eka had problems and conflicts with him too.
But her husband refuses it. "Sometimes she said she wanted to kill herself but, we had no problems and misunderstandings" - saind Ramini Guraspishvili.
He never tried to figure out what struggles she had according to some neighbours, while having the facts that.
Few months before the 17 october accidents, Ramini had left the village for month and worked in Tbilisi. As Lia Khuroshvili said, after aggravated conflict with mother-in-law, eka moved to live with her husband for a while.
On 12th of October returning back she felt hopefully and happy -- as the neighbours state.
"My husband asked me to sustain little bit and then he will take me away. He bought me some stuffs and gave me money for food" these was the last words inspiring the optimism of better future of her, we have heard" - said the neighbour Eka Varsimashvili.
Few days later, Eka hanged herself.
"She many times mentioned, that she wanted to kill herself" - said her husband.
As he claimed, they had no misunderstanding or problems and never tried to figure out, what "struggles" his wife had.
While the suspicions are a lot and yet not exact one, doubts are going mouth to mouth, the answers are hiding behind the investigation process, Family of Guraspishvili is moving on and continues life with little Barbare Guraspishvili, 3 years old second child of EKa.
(this is second marriage of EKa, from first marriage she has another child, which states in his family, family of Amirkhanovs')
"I stated, that child must be taken from this family, it's crucial to avoid her from unhealthy environment, especially the grandma (mother-in-law), she is very aggressive and bully person. Child can't be left into her hands. But till while the investigation flows and we have no argument, strong reason to take and give her proper shelter. Family demands her to say with them, think this also has some reason, Barbare takes social subsidy, this extra money is also the reason of her desirability" - said Lia Khuroshvili.
"Every morning I see how Eka's mother-in-law takes this lovely child to kindergarten, cleaned and well taken care, There was time eka use to walk her. As we see child is cared and save, i don't know more" - said, the school teacher Eka Varsimashvili.
Eka was born in Kalauri, village in Gurjaani region, kakheti. For her mother, Nana, it was second marriage, from which she got Eka and her older brother.
After father's death, family turn into even more difficult economical situation, than before.
Finishing the school, 18 years old Eka first got married in Shilda, and became sister-in-law of Amirkhanov family.
having first child soon his husband died, from unexpected accident, tree has fallen down on him.
As neighbours said family was very good, honest and lovely, with harmonic relationships.
Lia Khuroshvili also confirms this information.
As for Neli Amirkhanov, the first mother-in-law of victim, Eka was good sister-in-law and mother.
"She was poor girls, with hard life and they turned her life even worse, into nightmare, they killed her." - said Neli Amikhanov.
As she added she always tried to send her grandchild rarely to Ekas' second family, she knew that they were aggressive. "She was a lovely, very honest and naive girl, with warm, polite meeting.
Everybody loved her and despite her problems and sadness, she was joyful and funny while working" - said Eka Varsimashvili.
EKa is another girl from vineyard, another girl with marriage at early age, another girl with struggling poverty, another victim of jealousy, beating, murder or suicide. Another girl who will add one more number to that statistics.
Every year, we face femicide cases, among them leading to suicide is not rare sadly.
In 2014 from 382 cases, 334 initiated the proceeding under the 115 part of act of criminal code. Only three of them resulted in engaging for leading to suicide.
In 2015 from 395 accidents none of turned to leading suicide, correspondingly nobody was sued for that and none of the cases was initiated into proceedings under the criminal code.
After 2015 year statistic stops, we have no exact data of leading to suicide cases which are discussed or have been resulted holding the guilty or not.
The Tbilisi City Court declined responsibility and answered that it doesn't work on that kind of information.