By Ana Giorgadze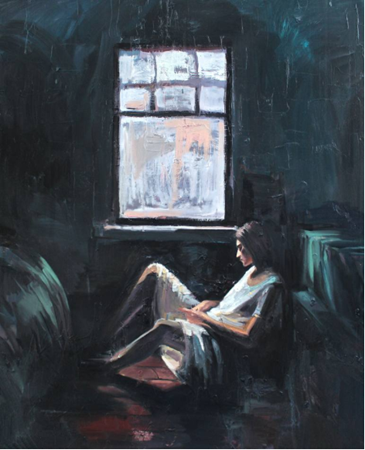 "For my belief is that if we live another century or so—I am talking of the common life which is the real life and not of the little separate lives which we live as individuals—and have five hundred a year each of us and rooms of our own"
"A room of One's Own", Virginia Woolf
26-year-old Beta Nachkebia was brutally murdered by her ex-husband, L.L., on January 18th in his grandmother's house in Surami, according to the official statement of the ministry of internal affairs. The investigation is still ongoing under Article 109 (2) (f) of the Criminal Code of Georgia, which means premeditated murder of a family member in aggravated circumstances and envisages from 14 to 17 years of imprisonment. Court hearing was scheduled in the end of March, however, it has been delayed because of the state of emergency declared by Georgian government to halt Coronavirus spread.
According to the family relative, who preferred to stay anonymous to avoid a hostile environment within the family, reported that before the tragedy, Nachkebia and L.L. have been separated for up to two years, and yet the conflict, which led to divorce before, still continued. Relative said, suspect was constantly jealous and found hard to accept the separation even after two years.
According to the same source, couple had 5-year-old daughter. Because of common parental care, after the separation, they would occasionally meet each other in Surami, where the suspect's 82-year-old grandmother lived. She also provided a temporary shelter for Nachkebia and her daughter, when the woman was urged to leave her home village because of her abuser brother, who would constantly abuse her physically and verbally, as family relative had witnessed.
However, Nachkebia living at grandmother's house was not the best imagined scenario for her ex – husband and brother either. Before the murder, L.L. had a phone conversation with her ex-wife's brother, in which, according to the relative, the latter was urging him to make his ex-wife leave his grandmother's house, as it was a matter of his reputation not to give a shelter to a woman, who was kicked out by her own family. Few hours later, after this phone conversation, L.L. went to Surami from Khashuri and murdered her ex-wife with an axe. "He seemed unusually furious, I have never seen him like that," 82-yer-old grandmother told the media.
The child is now going through a stressful time as her custody is still being discussed between her grandparents. The family relative said: "The girl is staying with me only during the court meetings. Mostly she stays with her mother's grandparents. she is full of questions and sometimes we do not know how to respond." She also added that the girl does not feel comfortable around her uncle, because she remembers how he treated her mother, however, according to the same source, the chances are higher for the Nachkebia's family to take the custody of the child.
The suspect was a second husband for Beta Nachkebia. After the first divorce, woman had problems in the family, especially, with her brother, who did not feel comfortable with his sister's divorce and often harassed her physically and verbally, according to the family relative. After the first divorce, Nachkebia came back to her family house in a village in Khobi, Samegrelo region. She used to live together with father and brother, as mother went to Turkey for work a few years ago. Therefore, the victim was alone to deal with drunk father and her 28 years old abuser brother, who didn't have regular job and time to time earned his living from working on construction sites.
According to the family relative, it was not the first time neighbors witnessed the domestic violence in the village, however the situation with Beta Nachkebia and her brother was very severe, so they decided to contact their mother in Turkey and ask, if she could find a job for her daughter. "She had to leave the place, so that's what we thought was the best solution at that moment, but unfortunately she could not find anything there."- One of the neighbors said. It was the continuous harassment, Nachkebia suffered by her brother, finally urging her to seek for the shelter in the house she was finally murdered in.
"It is these men who impose on women the practices that they have to live by and, if they deviate from it, consider themselves morally responsible to punish these women," women's rights activist and MA student of Gender studies, Anamaria Bragvadze, said. She also added that in patriarchal society, women are often perceived as men's property, so a life of a women is governed by her father and brother, and then by husband and sons at various stages.
According to Nino Lomjaria, Public Defender, "The fragmented efforts made by the state to prevent violence against women are not enough. There is also more to be done in terms of education, changing societal stereotypes, supporting and empowering victims. "Georgia had already 8 Femicide cases only in 2020 (including march), according to Georgian women's movement.
Tamta Mikeladze, director of the management and coordination of the Equality Policy Programme at Human Rights Education and Monitoring Center (EMC) considers the weakness of working to protect and strengthen victims as one of the main gaps in the state policy – "It is clear that a situation where the state does not have a sustainable, fair and equitable policy for employment, housing, social protection, leaves the victims alone and vulnerable to violence."