By Ismi Aghayev
Dilara Zeynalova, 37 was stabbed multiple times by her ex-husband Ceyhun Bahmanov,39 in February 1st 2020 in Baku, Azerbaijan. Dilara Zeynalova stays at intensive care unit and her health condition still remains serious. A crime performed by her intimate partner, thought to be motivated by religious motives to punish no obedient wife for leaving marital house in order to escape his controlling and possessive husband.
Dilara Zeynalova and Ceyhun Bahmanov got married in 2000. After almost 20 years of living together, the couple divorced in 2019. They have a 15-year-old daughter and two sons, aged 19 and 6. Bahmanov was a devout Muslim who forced Dilara to wear a hijab as soon as they got married. He forced his daughter to wear a headscarf as well and did not let her go to school. Throughout the years, he was constantly oppressing his family and never let them go out of the house. When his son was 16, he was evicted from their house because he refused to pray. "Me and my other daughter took care of my grandson and we sent him to Europe for his studies," Elmira Zeynalova, Dilara's mother said.
Elmira Zeynalova described her daughter's marriage as a "hell marriage". "Their marriage was awful," she said. Zeinalova also recalled the time when Dilara moved back into her childhood home in 2018 when her husband began to renovate their house. She said Dilara did not want to return to her marital home and wanted to divorce Ceyhun after the renovations were complete.
In response to Dilara's wish to stay at parental house, Ceyhun has intensified threats to kill Dilara, her parents and children. One day he tracked and attacked her at Huseyn Javid Park, in front of the Academy of Sciences Metro Station in the city center. "He carried two knives to kill my daughter ", recalls Elvira Zeinalova. Perpetrator hit Dilara Zeunalova all over her body, including heart twice, and throat, mother said. She explained that her daughter was with her fifteen-year-old daughter who was frantically trying to stop the flow of blood from all Dilara's stab wounds. "During all this time, Ceyhun started to pull his daughter away and ask her to leave with him. At the same time the ambulance and police arrived," Zeynalova said.
Currently, Dilara's health is critical, she remains in a coma.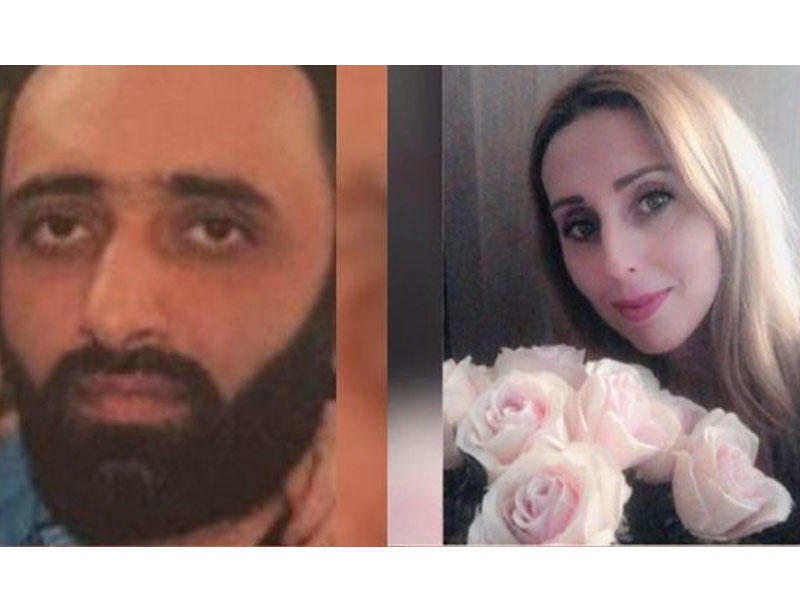 Security camera filmed the terrible crime, that also has more than ten eye witnesses. Ceyhun Bahmanov has been sentenced to four months of prison by law enforcement for having stabbed his wife, Dilara Zeynalova, to death by 16 knife wounds. This is a preliminary sentence since the investigations are ongoing.
The case was originally initiated under Article 126.1 of the Criminal Code, for intentional infliction of serious harm to the victim, including grave injury to the victim or in the case of an order as well as against a person who is clearly in a helpless condition for the guilty person. The victim is 37 and the accused is 39 years old.
Elmira Zeynalova said that this was not the first time her daughter was seriously abused by Ceyhun Bahmanov. In 1998 when her daughter was still in graduating class, Bahmanov stabbed her because he did not accept the fact that Dilara's classmates were visiting her in her house. Back then, Bahmanov did not serve prison sentence because he had a medical certificate attesting of his psychological problems. Instead, the court sentenced him two years of house arrest. Elmira Zeynalova claimed that diagnose was fabricated by Bahmanov's family and family "bought " a medical certificate by bribing the doctors.
The accused is the son of Nizami Bahmanov, former head of the Shusha District Executive Power, an influential figure who has close ties with people in highest instances in the government. According to Zeinalova, because of this position, he has covered his son's crimes, in the past . The victim's mother noted that besides father, Ceyhun's brother Tural Bahmanov is also an official, with strong connections with government top officials.
According to Faiq Habibov, lawyer of the victim's family, the fake certificate is considered as a right one, besides Ceyhun Bayramov has not undertaken any psychiatric treatment.