By Heydar Isayev
At about 11 am on 29 January, 16-year-old Fatima Gambarova was found dead in Hasanli village of Masalli, Azerbaijan. According to the Ministry of Interior Affairs and Prosecutor General's Office, medicalexamination identified damages on neck, back, and right hand of the victim's body. Examination's initial conclusion is that the reason for the victim's death was deficiency in respiration emerged from supposed squeezing in muscles in the neck side.
The operations carried out by police and prosecution officers of Masalli city established substantial base for a claim that Fatima was killed by Iman Mammadov, her husband, who is 18-year-old and from Khoshchobanli village, as the latter allegedly chocked Fatima with his bare hands as a result of altercation in their house. They detained Mammadov as a suspect to violate the respective paragraph (120.1: murder) of Criminal Code. During interrogation with the presence of his lawyer, Mammadov confessed to the crime.
According to villagers, Fatima and Iman had been engaged for nearly one year and married on 10 January of this year. They also stated to APA that there had been no incident before between them on the basis of personal quarrels. It is also known that the couple was preparing to move to Sumgait for the purpose of Iman's education.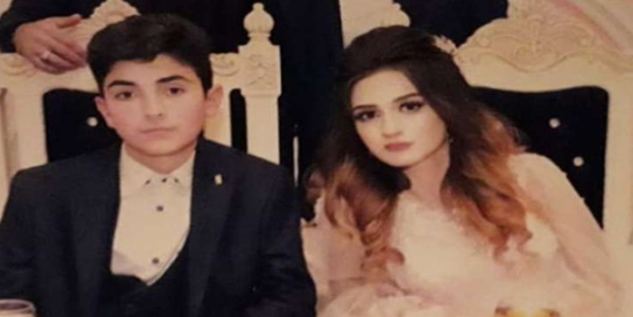 Local media (cenubxeberleri.com) reports that Fatima's parents lived together for a year without legal marriage until they broke up. This was her father's second family. Her mother also got married again after they separated and moved to Baku, leaving Fatima with her grandparents in the village. But she kept in touch with her daughter.
In October 2019, Fatima's mother insisted to get her daughter to drop out of school and allegedly wanted to take her to Russia to live with another grandfather of her. On November 1, 2019, her case was raised in pedagogical committee of the school upon the request of her mother and basing the decision on "her family situation", it was decided to exempt Fatima from the school. She was given the "attestate" proving her enrollment up until the 10th grade.
After two months, on January 5, in one of wedding palaces in Masalli her family held 'a girl wedding' for Fatima, (i.e. based on Azerbaijani tradition, in some villages groom and bride are held separate weddings) and on January 10 for Iman 'a boy wedding' was thrown in 'Mocuza' wedding palace in the village of Chakhirli.
18-year-old Iman did not serve in military draft because of his height deficiency. He was studying in secondary special school in Sumgait on full time basis. He has two sisters younger than him. Family told local newspaper that at the day of the murder his father was in Sumgait looking for a rent house for his son and the late daughter-in-law. He was also the one who was supporting the family financially.
Fatima was raised by her grandparents. They saw Fatima as their own child, not a granddaughter, as Rakif Alakbarov, her grandfather, told BBC Azerbaijan. "I have been in shock since the incident. I couldn't get back to myself for a day," he said, "they put me on feet with needles." Fatima's relatives said that the marriage was in accordance with law, as they said they had documents needed to legalize the marriage. However, Masalli City Executive Power stated to BBC Azerbaijan that this marriage was not agreed with the local authorities, and the family was even warned about illegality of early marriages.
According to the Constitution of Azerbaijan, minimum marriage age is 18. However, it can be decreased by the consent of the local authorities not more than a year. In this case, Fatima did not even turn 17 when she got married. The question arises as to why her family agreed to marry her at this age. Rakif Alakbarov said to BBC Azerbaijan that he is the one responsible for marriage. "Because I did not have hopes that I could see her get married in the future. I have gone through two paralyses, I suffer from diabetics. I felt that I had to marry her off so I could see her happiness. But I could not have imagined she would end up like this.", he said.
Masalli City Police Station and Prosecution Office state that investigation is going on in the case, also vowing to identify who involved in the organization of early marriage and if there is any proof of forced marriage.
There is a trend of decrease in the number of early marriage cases in Azerbaijan. Most early marriage cases on record since the independence dates back to 2011, when 5138 girls under the age of 18 were married. According to the State Committee on Family, Women, and Children Affairs, the latest available data belongs to 2018, with only 338 cases.