by Ketevan Skhirtladze
Eliza Gelashvili, 58, was raped and killed by a stranger in Kakheti region town of Sighnaghi on May 4, 2016.
Gelashvili had just left work and at the station for a bus to Tsnori.
Two men arrived by car and offered her a ride. After that, Gelashvili disappeared.
"She was very disciplined, attentive and caring woman. She would never go somewhere without telling us," said Indira Baramidze, the victim's daughter-in-law.
"It was Easter time. My husband (victim's son) was not feeling good, fell down and was in a bad state. That is why she was hurrying to get home as soon as possible."
When Gelashvili did not return at home on time, her family began to call her mobile.
No one answered.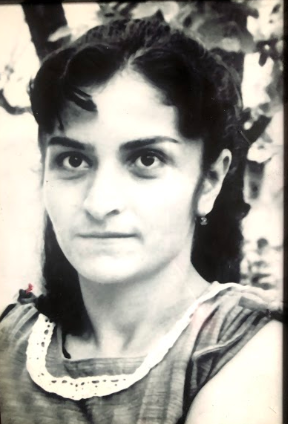 Her family began to look for Gelashvili. The search lasted tow days.
Her body was found on the territory of Lagodekhi, thrown in a big puddle. She apparently was robbed.
"I am sure she was wearing earrings and a ring. She also had two rings in the bag," Baramidze said.
According to the Telavi district court verdict, investigators found that the men who took Gelashvili's life were drunk. One man, identified as Mamuka Nadirashvili, raped her and then brutally killed her. She was hit by a stone and then run over by the car.
"He was known to be a disgusting person. His wife and lover used to come to me. His nickname was Wolfdog" -- said lawyer Tengiz Bezhashvili.
The man had been in prison for beating his lover.
Bezhashvili described Gelashvili as a decent, honest woman.
According to him, she left her accounting job at the Sighnaghi Regional Center for Public Health at 2 pm and went to the bus stop.
Her family started searching after a couple hours.
"When they came to the police station, they were told it was not possible to open a case and start searching for her until four days had passed," Bezhashvili Said lawyer.
"There is a gas station near the Tsnori bus station. They have a camera and it shows a car passing by the walking woman. After that, the bus stop is not visible anymore and then a pickup truck comes and the woman disappears."
The victim's family started searching for her by themselves and found only a pair of woman's shoes. Then the police did decide to open investigation. Inspecting the camera recordings, they noticed that the pickup truck did not have a registration plate.
Police started searching in the region and found that the car belonged to Mamuka Nadirashvili, who was from the village of Jugaani. "He was unbearable.
He was in prison because of beating his wife," said the lawyer, adding that he seemed to beat women without a reason.
"He was brought to the police station four times a week," said the lawyer.
"He was sentenced to one year in prison for beating his lover."
The lawyer Bezhashvili said Nadirashvili had a farm and was herding animals.
It is unclear whether he served his entire time or was released on parole. Nadirashvili was accompanied by Giorgi Khajrishvili, who was in the car and witnessed everything.
Khajrishvili was punished only for not reporting the crime, which is a misdemeanor. During the investigation, his DNA was found on Gelashvili's shirt, but still he was only sentenced to 2-3 years in prison.
As for Nadirashvili, after TV "Rustavi 2" showed the story, prisoners killed him the same night, according to the lawyer.
Another source told Baramidze that Nadrashvili committed suicide.
According to Adjara Prosecutor Natia Songulashvili, after people who serve time in prison for an act of violence are released, there is no rehabilitation course or any additional legislation to help prevent further violence.